Making Planning (And Daily To Dos) Fun
By
I've been using a process for planning in the mornings for about 4-5 months now (which in and of itself is freaking UNBELIEVABLE), and I think one of the reasons I've been sticking with it is because it's fun.
It's a combination of tools pulled together from different places, and then augmented with sticky-notes (really awesome and fun ones), stickers, pictures from magazines, mementos from events, excursions and trips, and a wonderful book/journal as the basis.
Here are a few images of some of my planning pages and my 'fun' pages: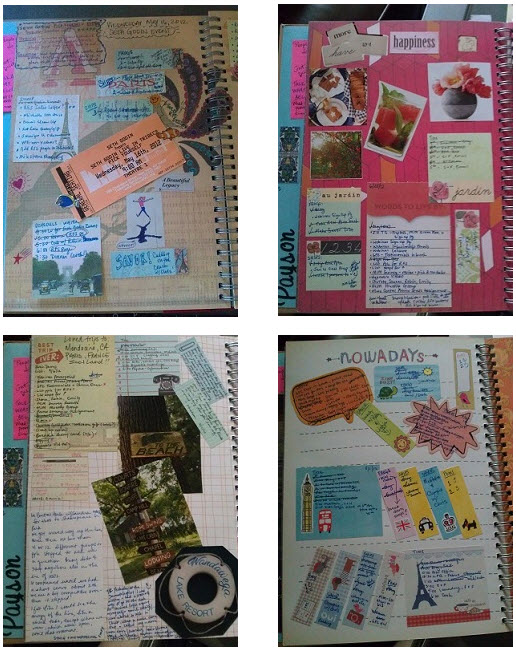 Here are some of the things coming into play:
The Daily Action Plan
Daily Do's – What you'll want are to figure out what the specific things are you want to do each day. For example, you may want to identify the 3 things that will move things forward for you in the quickest and most effective way. And, most likely, they are things that you might avoid if you don't prioritize them. Think of the idea of 'Eat That Frog' by Brian Tracy – get the tough things out of the way first, and you'll find the rest of the day goes great.
Ships – Next, you'll want to figure out 3 things that will get you and your product, service and business out into the world. There is a concept in Shelly Campbell's book The Wealthy Spirit called 'sending out ships'. If you aren't sending out ships, there won't be any to come back to port bearing treasures. So, be sure to put some focus on 3 things you can do today that will help you put the word out and will create opportunity for something to come back in your direction.
What I've Added
Daily 'Poms' – which you'll see in the last picture. This is me tracking the number of segments I follow from the Pomodoro Technique (this is a simple and BRILLIANT time management process that has helped me be WAAAAYYY more productive in the last few months. Definitely suggest you check it out (the ebook that explains it is free – how about that!).
Daily Celebrations – this is something I've added recently. I noticed that I wasn't really acknowledging my 'wins' on a daily basis. I was getting glum and bummed when things didn't turn out EXACTLY as I wanted, and I wasn't celebrating and appreciating what I had accomplished.
This is my place to write down the little wins I have during the day – like when I really didn't want to write some copy and got myself into a good feeling place and then actually enjoyed doing it. That's a BIG win, actually, and something I would have previously glossed over.
The Sticky-Notes (!!!)
This is a huge part of what makes this fun for me. I have a (ahem)… shall we say 'sizeable' collection of interesting, fun and playful post-its, some of which you see in the pictures. Where in the world, you ask, did I find such WONDERFUL things? Here are my sources (and please, don't keep these a secret – I want them to make more and more and more varieties so I can have more and more and more FUN WITH THEM!):

I'm linking to Cavallini's store on Amazon because a) I LOVE Amazon and b) You can buy from there, and you can't buy directly off their website (unless you can and want to buy wholesale).

 This company has wonderful stuff! A few different 'brands' underneath them and some really playful post-its and things. I love the variety and the fun designs. One thing though… the post-it glue isn't the best, so they don't stick too well. I glue most of my post-its down in my book anyway (the loose ends at least), so it doesn't bother me. And, I happen to have a handy-dandy glue stick because…
 The BOOK!
The book is brilliant. All by itself it's a fabulous piece of art. Each page is fun, whimsical, and new. It's hard to put something on some of them (and, in a few cases, I haven't). I use colored markers to fill things in sometimes (yes, I have a coloring book… ;- )), I doodle on the pages, I paste magazine pics, I create themes of images and colors, I add stickers – I make it FUN.
"What is this amazing and wonderful book," you ask?
Well, I will not wait a second longer to tell you…

It's a K & Company SMASH BOOK!
They have a wonderful video on their site here (you have to click 'watch the video').
All the books, rather ingeniously, come with a pen that is also a glue-stick that is attached to the book, so it's always handy.
Smash books are FABULOUS! You can get them in a variety of places now including Target and Michaels – as well as online through places like Amazon.
I also like some of the accessories Smash Book has – my favorite is the Blank Smash Pad.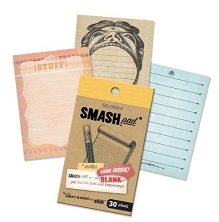 It's awesome! (And, because I have that fab glue stick, I can use the pages right there in my book, just like the stickies. YAY!)
The FUN!
Ok, now that you know what an incredible geek I am, tell me how you are going to start making your planning process fun… so that you'll actually do it. The FUN is up to you…
I'll go cross off 'blog post' from my short list of today's activities. :- )
And, as I work on my next marketing planning process, I'll be making it more like arts & crafts – just for the FUN of it! There is absolutely no reason why the marketing planning process can't include most (or ALL!) of these great tools.
Happy Planning!
P.S. Yes. I write small. Very very small.