Marketing – Straight Up
By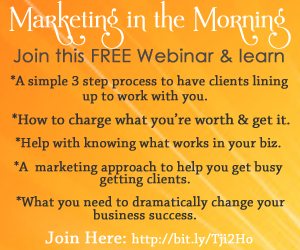 If you've watched this blog over the last few weeks, then you've undoubtedly noticed the links at the bottom of many taking you to a new webinar I put together to teach some of my best stuff about marketing.
Well, the webinars are over… and people LOVED them. I got loads of emails and comments on social media about how great they were and how much people valued the information.
I also had A LOT of people asking for the replay…
Which, after the first 2 rounds would have been impossible because I completely FORGOT to hit the record button! (We had some technical difficulties and I got distracted…)
I finally remembered on the last round, soooo…
I've decided to GIVE YOU ACCESS to the recording. :- )
But, just for about a week. I'll be taking it down on Oct 5th at 5pm sharp.
So, if you're interested in watching me reveal some of my best secrets (the ones that have literally CHANGED businesses completely), then click here to register.
Remember, it will only be available until Oct 5th, so don't miss out – register here and get FREE instant access.