Planning Your Year Just Got A Little Easier – Marketing Planning Process
By
The marketing planning process at it's best! :- )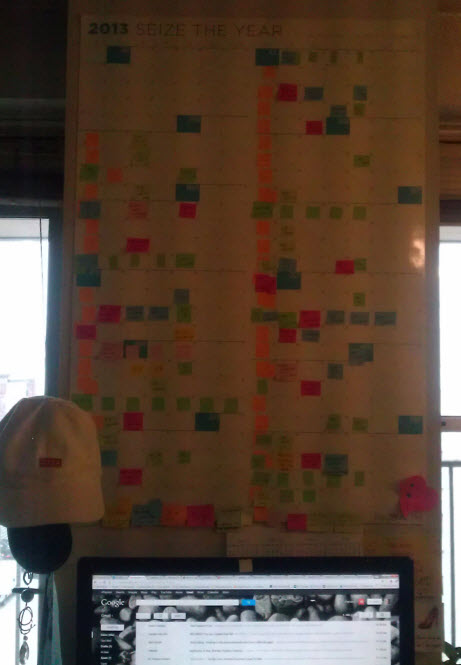 I know it's a terrible picture (I could probably get a better one at night without the back-lighting of the windows), but it'll do the job for now…
It's a NeuYear.net whole year calendar that displays the entire year (1 side is lengthwise, the flip-side is set up width-wise, as you can see on the photos on their website here). For the last couple of years I've used a simple large desk calendar from Staples to do my annual planning – and it's helped tremendously.
When it comes to the marketing planning process, the one big issue I've had, is I don't know what's coming down the pike. I can't see ahead to the marketing planning and work that is scheduled for bigger and longer-term projects. So, in the last week of Jan, as I need to be thinking about what's coming up in the first few weeks of February, it's hard to tell on a regular flip-a-month-per-page calendar.  (As you can see, the calendar is over my desk, so not that easy to reach to flip.)
This solves that problem!
As I'd already laid out the year on one of those regular calendars, switching to this one was quick and easy – I just cut or trimmed my post-its (the boxes are a bit smaller than the calendar I was using) and put them on the same date spots. There are categories for time off, business events and travel, program launches, planning dates for big projects, marketing start and end dates etc.
Being able to see the whole year will make everything flow MUCH SMOOTHER for me this year – and I know it will help me stick with the calendar even more.
Thank you NeuYear.net!

And, if you're still figuring out your marketing planning process and you don't have your year planned out yet (and you'd like to work on those things), then don't miss my upcoming Marketing in the Morning™ webinar. We'll be talking about getting your marketing in order, which is the start to getting your calendar and plan sorted out… and that leads to more clients, more time for you and more fun than you've ever had in your business before. Trust me… it's working for me! Register here to find out more.