Small Business Marketing Strategy: Making The Most Of Your Time With 2 Social Media Tools
By
Payson
This week's small business marketing strategy is all about making the most of your time with the right social media tools…
There are literally thousands of business tools out there that can help you in every arena of business, but today, I'm just going to talk about two of my favorite tools for Social Media.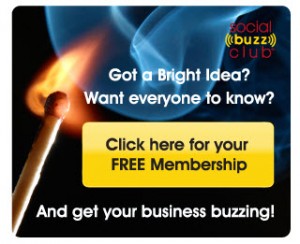 Tool #1
This is a brand new tool that was just written up in the Social Media Examiner – I was lucky enough to be asked to participate in their testing and trial process, so really got to dig in and see what the tool was all about. I was also gifted with 50 free trials for 60 days each (and there's no auto-enroll at the end of the 60 days, so no accidentally paying for it if you aren't using it… and if you are interested in one of the trial memberships – if there's one left, you can click here.)
What the Social Buzz Club does is give people who are serious about spreading their content and business through social media, and in particular social media professionals, a place to get some help with buzz for their content and for their client's content. There are some minimum requirements, which, as small business owners who are using the web, you should be able to fulfill (if not, then please read back through older posts on this blog and on others about online and social media marketing – you need to get busy!).
You earn points by sharing other people's content through Twitter, Facebook, LinkedIn and 2 social bookmarking sites, StumbleUpon and Digg – once you have 5 points (you've shared 5 times), you get to post your own stuff to be shared by others.
This tool has the potential to be HUGE and to really help boost your exposure when you need it, so join in, start sharing and earn the right to get buzz around your stuff when you need to. (This is my personal link for the few remaining spots out of my original 50 free trials – not sure if they'll be opening up more, so grab them while they're hot! Click here for the Social Buzz Club.)

Tool #2
I've talked about this tool before… and last week I went through it with a client helping her maximize it's potential and was reminded what an amazing and powerful tool it is. You can find the most targeted people to start building your followers, consistently grow your follower base, help augment your tweets (and even Facebook page updates) with links to your content and much more.
If you aren't using it as part of your small business marketing strategy, you will definitely want to check it out. Everyone I know who starts to dig into it is blown away by everything it can do and how much time it saves. (Again, this is my personal link to TweetAdder, don't dilly dally with this one, get it, set it up and watch while it makes building your Twitter account nearly effortless.)