When Life Hands You Lemons…
By
You Make Lemonade!
Sometimes things don't go quite as you plan… and how you handle life's little SNAFU's translates into a good small business marketing strategy…
On May 20th I headed to Newark Airport, bags packed, super excited to be going to London, then to northern England to visit with my parents who were headed to meet us at a rented cottage in Clitheroe – a tiny, rural area just north of Manchester, England.
Alas, our trip was not to be… as life would have it, a snag interrupted our 'check-in' process. As the interruption hit, I framed the only question I knew would get me the 'cut to the chase' answer, "What can we do about this?" (This is a great question when you are faced with something you want or need to work on changing… helps get everyone thinking about a solution.)
The answer? Nothing.
Deep breath.
30 minutes with the nicest, sweetest Continental employee ever, and we had information in hand to help us remedy the problem within the next 3 days… which kind of ruins a 10 day excursion. And, must say, I love my smart phone… quick message and email to my parents, sleeping 5 hours ahead, "We didn't fly to London," quick call to a close friend who knows everything about travel, "Can you check to see if there are any other options?" And, finally a call to the car service, "Can you pick us up at Departures?… Yes, departures…. I don't have an arriving flight number – I just arrived in one of your cars."
A full 4 hours and several hundred dollars later, we were back at home, ordering a late dinner and trying to figure out what to do next.
We woke up the next morning, thinking we would just resume 'life as usual', but after some conversation we decided we really did need that vacation. Within minutes I'd found a great website on house rentals in the Outer Banks of North Carolina (OBX for short – I'd never been and thought it would be fun), contacted the rental company and made a low-ball offer (heck, it was already Saturday, not likely they'd get anything for the week, so thought it was worth a shot).
Not even an hour later, with the offer accepted, we were tearing around, yanking fleeces out of our suitcases and shoving in shorts and bathing suits. Not even 24 hours from our original 'SNAFU' we were on the road to Rodanthe, NC!
So, what does all this have to do with your small business and your life as an entrepreneur? Sometimes life is going to throw you a curve ball… and when it does, how you respond will have a lot to do with your overall success.
You can have your moment of disappointment and grief over what might have been, but keep it brief. Then, it's time to take those lemons and make lemonade…
So, while we were supposed to spend 10 days in England, instead we had a blast on a road trip, spent the week hanging out at the beach (incredible Sound front house for less than a bargain-style hotel for the week!), and I got to try Kite Boarding – something I've wanted to try for years (there's a picture below of me and my instructor Sarah from Kitty Hawk Kites). It was relaxing, refreshing and a total blast.
Not at all what we'd planned, but worked out beautifully just the same.
Now, take a look at your business and your life… what lemons have shown up lately? How can you find a way to turn them into lemonade?
Here are a few pics of the view, the house and the kite boarding…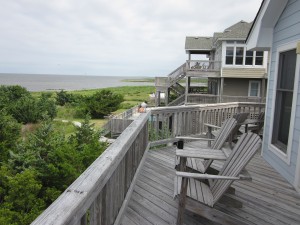 This one is from the back deck, looking north.
The back deck at sunset – you can see the walkway out to the sound.
The view of a couple of the kite boarders from the houses nearby.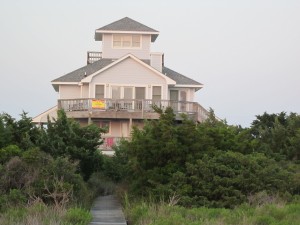 View of the house from the Sound.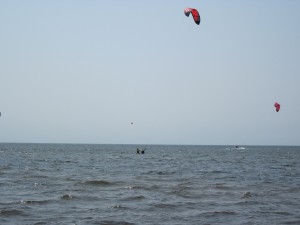 It's hard to tell, but that's me holding the kite. Didn't quite get up on the board during the lesson, but will definitely be trying again – it was so much fun!