Archive for October, 2011
Some of you definitely know, and other's of you may not yet, but I am a HUGE fan of Abraham-Hicks. Their work has been instrumental in changing my life in so many ways, it's more than I can even get my head around. I know that my life is certainly more joyful, more love-filled and more fulfilling as I learn and grow more and more through their work.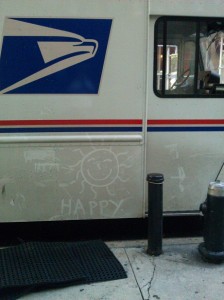 The reason I bring it up is they have a daily quote email that goes out to which I am subscribed. It is one of the few emails I am sure to read just about every day…. I relish the little tid-bits of brilliance, and once in a while come across one that I want to tattoo on my arm, so I get to look at it hour after hour and day after day. A reminder of what I believe is 'real' to keep me from getting pulled into the quicksand of the 'regular' thinking I've practiced for most of my life.
I'm practicing something new through their information, and I love it… here is just a teeny, tiny sampling of what is so amazing about their work – one quote that I hope you will allow to sink in, to begin to shift the way you think about your day, the way you think about your business and the way you approach every experience in your life.
"Reduce your workload by 30% and increase your fun load by 30% and you will increase your revenues by 100%. And you will increase your productivity by 10,000%. (If there could be such a percentage.) More fun, less struggle — more results on all fronts." ~Abraham
Take this to heart. Have the courage to really embrace it and give it a chance to work it's magic in your life. Lay down your 'work' and do something JUST for the fun of it, JUST because it thrills you or simply gives you some peace and some ease. Give yourself that gift, and have the strength to do it for a few days, then a week, then a month and more.
The old saying goes, "stop and smell the roses"… if you don't you may find that another month, or another year has gone by, you aren't where you want to be and you have spent all of your time running around after the 'dream' or the 'goal' of getting something so that you can finally feel happy, or finally take some time with your family, your partner or simply to walk in the park. Don't wait. START NOW!
As John Lennon said, "Life is what happens as you're making other plans." Start living your life today, you'll be amazed to discover your business grows faster and easier than you could have ever imagined.
The Top 10 Tips Series of "How to Get Clients Using Online Marketing Strategies" continues with Tip #5: Using Video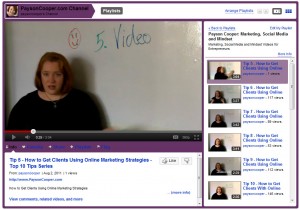 Video is THE HOTTEST online marketing tool right now – there are several different types of video you can use to help build your followers, grow your platform and ultimately build your business and sell more products and services.
This video shares some of the options and shares why video can be one of the most effective ways to build your visibility and the all important "know, like and trust factor" for you and your business.
Please leave any comments below or on YouTube if you have questions or thoughts to share. Enjoy!