Archive for August, 2012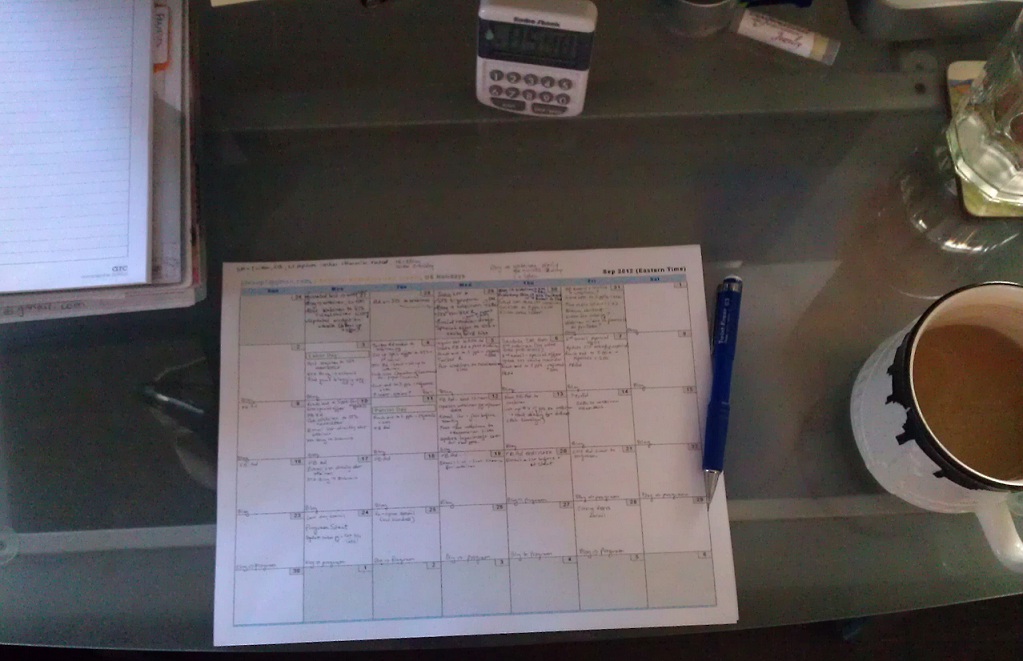 This is an actual marketing calendar I worked on for a launch process.
A couple days ago I posted the first three steps of my marketing planning process here.
Today I want to talk about the next steps in the marketing planning process, as I apply it to my business.
Once you have done your brainstorm, categorized the items you came up with and created a list of any pre-requisites (the things that have to be done before you can start marketing), the next pieces you want to incorporate include:
1. Prioritizing
Depending on the type of marketing planning process you are in – whether it's general marketing for an ongoing product or offer, or it's more 'launch style' marketing, you will need to prioritize the marketing. There are many ways you can prioritize including what you think will have the biggest impact, what can be done quickly and easily, what needs to be done first, so other things can build on it or because it will have a great impact if it's out there longer etc.
You get to decide what will work for you… keep in mind it may include all of those as well as other criteria.
2. Laying Out The Steps
If you have some more complex pieces of marketing involved from this marketing planning process, you'll want to break them down and think through each of the steps. You may want to bring in someone else to help you think about this stage (or any of the others), as there may be things here that are challenging for you to think about on your own. This is where the 'can't see the forest for the trees' issue can multiply and you can get blocked (that can happen in the brainstorming process too).
If you're a visual person, you can use a flow-chart for this, you can write up the steps – whatever suits you, as long as it gets done.
3. Creating a Calendar
Once you have prioritized everything, it's time to start creating the calendar. You know what needs to come first, you know what you need to build, so now you can figure out when things need to be done so that other pieces can be completed.
You can use a post-it process for this, with big calendar sheets, a white board, calendar white boards – whatever suits your needs. Depending on what piece I'm working on – if it's a full year planning process, a launch process or some other piece, I use different things – including a print out of a blank calendar page from Google Calendar.
4. Delegate
This is where you get to delegate! YAY! I often talk about how you need to become the CMO (chief marketing officer) of your business, and by following a process like this you are doing so. NOW is the time for you to delegate certain tasks that can be done by other people. You have a plan in place, and now you'll know the pieces you can hand off – anything from having someone layout an ad (you may want to figure out the messaging and copy – or you can hire an expert to do that part too) to having someone schedule social media (again, you may want to write it, as you are the expert in your biz – or use a copy writer) to so much more.
5. Put Your Nose to the Grindstone
This is where the rubber meets the road. It's time to start putting your marketing plan into play. Start completing the tasks that are yours to complete, and be the manager of all the other pieces, making sure they get done and put into place as necessary.
That pretty much sums up my marketing planning process. There are other pieces, of course, and each of these can be broken down into multiple steps, but this gives you an outline. Other marketing planning processes include things like creating your marketing funnel (or pyramid, depending on whose school of thought you subscribe to), to creating your annual marketing plan and marketing calendar to much more.
If you are starting to recognize that the marketing planning process is something you'd like some support around, then I want you to check out my upcoming (& FREE) webinar where I'll be sharing lots of great tips around this and much more. Here's the link: Make Your Marketing Work Webinar.
…