Archive for April, 2013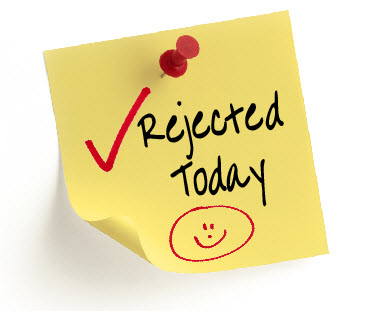 A simple shift can change EVERYTHING.
Seriously.
It's not an over-statement. If anything, it might be an understatement.
I wanted to get into this today because I've embraced one of those slight 'shifts' that is creating monumental change in my world. And, it's only just begun.
A few weeks ago one of my close friends and business peers Patty Lennon shared a story with me about a friend of hers. Her friend, Lisa Marie Hayes, decided to create a challenge for herself, but instead of your standard 'make a sales call a day' type of challenge, she decided to go for 50 Rejections.
Holy Cr*p.
So, as is customary for me, it's taken me a few weeks to align with taking this on. I can't usually jump right in to something scary like this, so I took my time, thought about it, and then got a little prod from friends and now I'm ALL IN. (The prod from friends came when Patty publicly announced this challenge on a women's networking group board and people started saying they were in… I decided, now or never – sometimes you just have to get off the pot, right? :- ) ).
I've created a form to write my rejections in, I've started looking for the opportunities for getting a rejection (they are EVERYWHERE) and I've started keeping track of the things I'm reaching for. Already, I've taken on a few challenges I'd been avoiding, like applying for a competition and calling a few people who told me they were interested in something I have to offer. We'll see where it goes, but I can already feel the momentum shifting – even if these things don't bear fruit, I know that some things will – I just have to be willing to embrace the opportunity.
What is SO BEAUTIFUL about this challenge?
It changes the way you think and feel about what you are reaching for. If you are AIMING to be rejected, you can reach for a whole different level of possibilities – which means you'll ask far more often and for bigger things than you may have even considered before. If you're going to be rejected, it might as well be for some big stuff, right? And, it's hard to be too disappointed in being rejected when that's what you were trying to achieve in the first place… HUGE mental shift.
Stay tuned for more on this – I'll be documenting the experience as I go along.
Wanna play? You can take a look at some of the conversation going on about it here.
(P.S. I have a webinar coming up where I'll be sharing one of my biggest tips to marketing that gets you more clients, more cash and, ultimately, puts you back in charge of your life and your time. You don't want to miss it – you can register here: http://www.paysoncooper.com/webinar/# )
…