Where do you find your target market?
By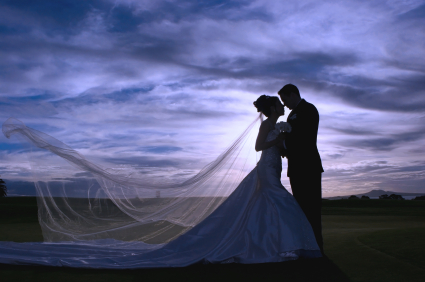 Sometimes there are places to find your target market that might not be all that obvious… (and why do I have a picture of a bride and groom…it will become obvious in a moment…)
Have you ever spent some time thinking about where your prospects and clients are before they become your clients? Perhaps even a long time before? I had lunch with a friend the other day who is a relationship therapist. She was talking about how she wants to build her practice in the area of working with couples who are coming out of the 'honeymoon' phase of their marriage, which apparently happens between 6 months and 12 months after the wedding. The gloss is wearing off and some couples seem to realize it's not going to be that easy and perhaps they are in too deep – basically they need some help.
So, she asked me how I thought she should reach them. I suggested doing free weekly teleseminars for brides-to-be about how to stay sane during the wedding and planning process, how to improve communication with the groom etc. By offering something that many brides would be very interested in receiving and making it low-risk to get involved (free is pretty low risk) she could start to attract people who are open to learning communication techniques and help them tremendously. She would begin to build that 'trust' relationship that is so key to successful marketing and sales. Once they signed up for her call, she would be able to stay in touch with them using an auto-responder series, offering tips and guidance for each of the steps along their path at the beginning of their marriage (it can be triggered based on a wedding date, as many brides will happily enter that information early on). After 6 months or so, she can begin to discuss the signs and symptoms of marital issues, talk about how important it is to get help early and what an incredible difference it can make in creating a long and happy marriage, and start to offer her other teleseminars, live seminars and programs on keeping the passion in the relationship, creating more love and joy and much more.
It would take a little while, but a process like this could build a very hungry list that knows you, likes you and trusts you, and you would be the person that came to mind when the need arose, which is the exact place most companies are trying to be.
How could you use a technique like this to help build your business? If you found a supportive and helpful way to reach your prospects before they were your prospects, where would your business be in 6 months or a year? Where would it be in 2 years? This is an often overlooked technique… and if you can't think of ways to do this for your business, take a look at my customized marketing solutions coaching. A few sessions could open your mind to seeing a lot of possibilities.