Every once in a while something comes along that gets my blood pumping… the song on this Gatorade commercial did it…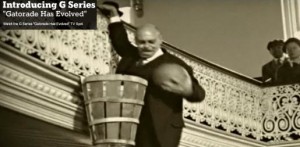 So, I tried to figure out if I could buy it, and started looking around. After checking a few links finally came up with the Gatorade site where you can download it for FREE!

(Here's the link: Evolve)
What I love about this song is it's rhythm and inspiring lyrics (you can read them here).
There are so many lyrics I love in it, here's a sample:
No matter what they do, they can't break your stride, evolution is a thing that starts inside…
Hope it helps you get motivated as you finish up the weekend and get ready for another week. Enjoy!