Persevering in the Face of Resistance: Doing the Work
By
The Domino Project (one of master marketer and brilliant author Seth Godin's projects) is sharing a free e-book right now (and, you can get a free digital book (Kindle, Nook, etc.)  in addition to the free ebook if you check it out before May 20, 2011) that is incredibly inspiring and motivational. So much so that I wanted to dedicate this week's blog post to a quote from the 5th page.
It's a remarkable collection of entrepreneurs', artists' and individuals' stories about doing their important work, regardless of the obstacles and in the face of tremendous resistance – the things that stop most people, most of the time.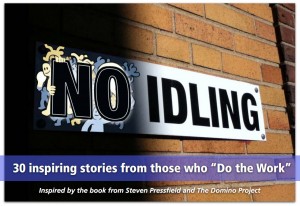 Here's the quote:
"Everyone has their walls to scale, hills to climb and hurdles to leap. We've all faced struggles that would seem to be the end of us, times in life when we literally fall on bended knee, certain that we have no more to give. The facing of hard times and overcoming is relative. But I've had it taught to me that the strength, the dignity, the integrity and the success of it all is in the attempt. You don't have to be better than everyone else. Truth is you may not be. But the "trying" is noble." – Steve Gordon Jr.
This practically brought tears to my eyes (yeah, I'm a softy…).
Check out this amazing free gift, there's no sign-up or anything – it's just yours for the taking. It has the capacity to completely change your life if you give it the chance.
From the new FREE ebook from The Domino Project: http://www.thedominoproject.com/2011/05/no-idling.html