Making Planning & Daily To Dos Fun
For anyone interested in how I plan my days… most days anyway (hey, no ones perfect!). One of the reasons I've been able to continue this for close to a year (I've never stuck with a planning process this long before) is because it's fun.
It's a few different things put together from different places, and then made more fun and interesting with sticky-notes (really awesome ones), pictures from magazines, stickers, mementos from events, excursions and trips, and a fabulous journal as the glue that holds it all together.
Here are a few images of some planning pages as well as a couple of 'fun' pages: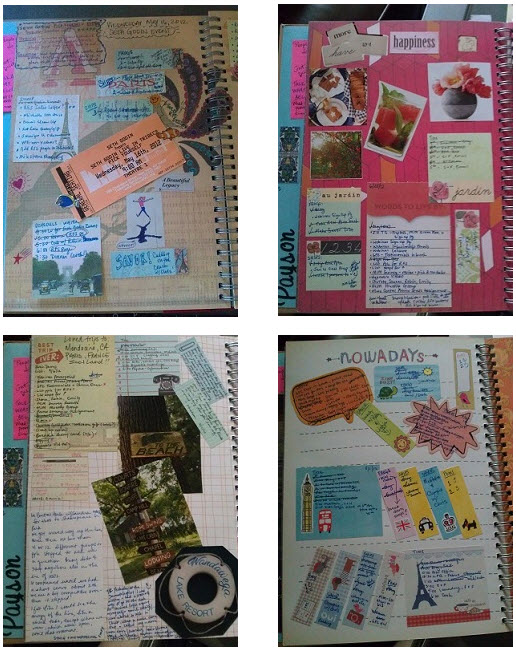 Here's what you are looking at:
The Daily Action Plan
I use a plan that was put together by Angela Jia Kim from www.SavorTheSuccess.com (it's available for free to premium members of the network).  She compiled a few concepts from books and sources she found helpful, like Chellie Campbell's book The Wealthy Spirit and Brian Tracey's Eat That Frog. Essentially, you figure out what you need to do (the brain dump list), then you figure out 3 things you must get done (and that are probably a bit challenging), then 3 more things you'll do to put your business out there, and wrap up with writing down something you will do to enjoy yourself that day.
I've added a few thing, as well as dropped a couple more to make it work for me (I suggest you do the same).
What I've Added
Daily 'Poms' – which you'll see in the last picture. I track the segments I follow from the Pomodoro Technique (this is a super simple and quite brilliant time management process that has allowed me to increase my productivity A TON – and the ebook is free to boot – be sure to check it out).
Daily Celebrations – one of my newest additions… I wasn't really paying attention to my daily 'wins' and found I was getting glum and bummed when things didn't turn out EXACTLY as I wanted. Turns out celebrating and appreciating what I had accomplished began to flip that around for me. Highly recommend it!
The Sticky-Notes (!!!)
My favorite part! I have a (ahem)… an, umm, 'sizeable' collection of fun and playful post-its, just a sampling of which you see in the pictures. Wanna know where I got these WONDERFUL things? Below are the resources (and please, spread the word about them far and wide – the more of us that love to play with them, the more choices we'll have!):

This links directly to Cavallini's Amazon store because a) I LOVE Amazon and b) You can buy from there. Cavallini only sells wholesale through their website.

Galison is another favorite – their stuff is so fun and playful… an unfortunately thing though… the post-it glue isn't great, so they don't stick all that well. I use the glue-stick that comes with my journal anyway, so it doesn't bother me that much, but if you actually want to use them as post-its, you might find it a little frustrating.
The JOURNAL!
The journal is brilliant. All by itself it is truly a piece of art. Every individual page is fun, whimsical and completely new. Sometimes the pages are so great I can't even bear to put something on them – and every once in a while I actually don't. :- )
Sometimes I color images in with colored markers(yes, I have a coloring book… ;- )), I draw and doodle, I paste pics from magazines and other places (sometimes I print some of my favorite images I've taken and put them in the book) – I do whatever strikes my fancy and I make it FUN.
"What is this amazing book that can inspire so much productivity and play all at once," you ask?
Well, I won't delay your curiosity a moment longer…

It's a K & Company SMASH BOOK!
They have a great video on their site here.
All the books, rather ingeniously, come with a pen that is also a glue-stick that is attached to the book, so it's always handy.
Smash books are truly GREAT! You can also get them at Target, Michael's and Amazon (I've gotten some good deals there, as often happens :- ) ).
And, some of the accessories Smash Book has are great too – my favorite is the Blank Smash Pad.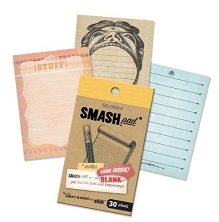 I just glue the pages in my book like stickies!
The FUN!
So, now you know all my goofy secrets, how will you start making your planning process fun? Make it so enjoyable that you'll actually look forward to it & do it. The FUN is up to you…
I'll go cross off 'blog post' from my short list of today's activities. :- )
And, as I work on my next marketing planning process, I'll be making it more like arts & crafts – just for the FUN of it! There is absolutely no reason why the marketing planning process can't include most (or ALL!) of these great tools.
Happy Planning!
P.S. Yes. I write small. Very very small.