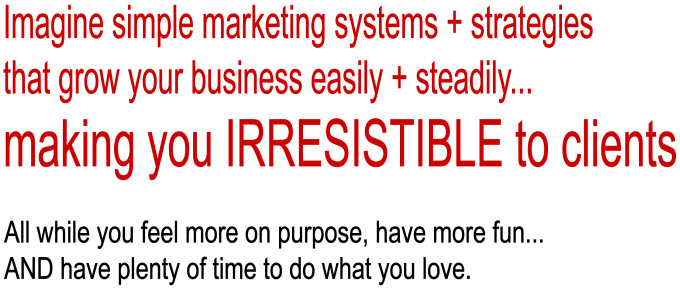 Really. Take a moment and imagine it.
You enjoy confidence and ease. You know things are working well, so you can joyously take time off for yourself and to focus on your family and friends. (No more thinking that you should be working when you're with your kids and that you should be with your kids when you're working…)
You feel so good knowing that you have the opportunity to share what you know and make a real difference.
You also relax and stop stressing about where money and clients will come from, things are flowing so steadily, it's as reliable as the in and out of the ocean waves.
Now, imagine that, as you lay in bed at night, reviewing your day… you're completely satisfied, even pleased with everything you accomplished.
Then, imagine the next morning, you wake up excited about the day ahead, and get more and more jazzed about all the marketing you're going to do first thing in the morning…
Eeeerrrrr.
(This is where you can make that sound in your head like a needle being ripped off a record, or a car screeching to a halt.)
I know… I went too far. That was probably working just fine for you until that last bit…
In reality, instead of that picture above, right now you're probably feeling pulled in about 100 different directions… and, on to top of everything else you probably have no idea what ACTUALLY WORKS to bring in clients.
And, you don't have any systems, strategies or plans in place to build a solid foundation for getting your brand, your information, your services, your products out into the world, event though they can help change people's lives.
You're probably feeling completely overwhelmed, and more days than not, you're bouncing from one email to the next or flitting all over Twitter or Facebook, spinning your wheels.
(C'mon, you know you do it too… check email and go on social media because you really aren't sure what to do next and you're hoping to find something to keep you busy… all to dodge that gnawing sensation from believing you aren't doing what you 'should' be doing – or even knew what that is!)
And, when it comes to marketing, you probably feel like it's icky and too pushy, and like there is just WAY too much to do.
All you really want is to know what the heck to do to bring in clients and you'll do it, right?
If you're like me, then you've probably tried taking programs in specific marketing tactics, like how to use Facebook or Twitter, or learned some about blogging and SEO.
You may even be using some of that information, but it's not organized or systematic and the results… well, less than stellar.
(Hey, if you are using ANY of it, BRAVO! Most people don't even get that far – I have so much SHELF help I could use another bedroom just to store it!),
You may have even gone to seminars and hired coaches, done some ads on Facebook (best thing since sliced bread, right? Everyone said so…hmmph), you've networked your little tushy off and pretty much tried everything you can think of under the sun.
The bottom line? You're not where you want, and your business is still not what you'd hoped it would be.
It's downright frustrating.
And, I know EXACTLY how it feels…
I did the seminars. I hired the coaches. I bought the programs, put myself through them, even seen some pretty good results from some of them. But, it's taken me a really long time to get everything to click into place (and I know there's still plenty more for me to do, too).
Before moving into marketing consulting and coaching a few years back, I built 2 online jewelry websites. The first one was just my basic designs and had no real 'draw' – no pull. I figured, if I built it, they would come (sound familiar?). Well, I did, and… they didn't.
A couple of months after my first site went up I got a sale. Then I got another, and another and another. All in a row. I had no idea what was happening, so asked one of the people who ordered where they found out about me. Turns out, I'd gotten a write-up on a luxury blog.
Something clicked. I got it. I knew I needed to figure out how to drive people to my website.
I got into magazines, on TV and even featured in movies with big-name stars…
So, I started looking around, figuring the best way to get more clients would be more write-ups like that first blog. I started working on getting my jewelry into magazines, into movies, and on TV. I did too – write ups in Woman's World, several online magazines, I got on TV – Tim Gun's Guide To Style among other things and even into a movie with big-name stars.
What came of it all? Nothing. Zip. Zilch. ZERO.
I'd done what most people do.
I figured if I got enough visibility, the product would sell itself.
I even hired a super-expensive PR person… to the tune of $12K (!) to help take advantage of those great opportunities I landed. I got NOTHING for my investment (well, I did get a pretty valuable lesson, in addition to learning not to hand off the most important part of my business).
Then I went to a big marketing seminar and again, something clicked. I realized that as much as I didn't really WANT to do it, I needed to learn the skills of marketing and sales – my business depended on it, and no one else would care as much as I did about MY business. So, I dove in, learning everything I could about marketing, both online and off.
It still took a little while for me to figure things out, but once I did, I launched my second jewelry line (BIG TIP: One of the keys to success: it was targeted to a specific audience), and created great momentum and a ton of success (I did over $13K my first weekend out).
After that I was pretty hooked, I sucked up everything I could about marketing. And, it was in the months that followed that I began to realize I had a real knack helping other entrepreneurs put together their marketing strategies. I started networking in different entrepreneur groups and found that I was brimming of good advice (much better than being full of the other thing, right? : – ) ), and the people I was sharing with started making money.
Some of them started to make a lot of money – tens of thousands of dollars. Some of those strategies are still being used, and account for growing 6 figures for a few of those people.
That made me realize what I had was really worth something, so I started coaching and consulting… And now, I'm putting the most important and essential pieces (the really juicy stuff I usually save for private clients) of what I've learned into this program for you…
Marketing in the Morning™ is a step-by-step guide to helping entrepreneurs go from feeling overwhelmed, worried and pretty much totally lost to creating a marketing plan and marketing systems that are authentic, feel good to implement and translate into tangible results (aka: help you get clients and make the buckaroos).
Here's What You Get
A step-by-step plan to attract your ideal customers, including the most requested topics in my surveys… the specific how-to's on tracking, building a powerful marketing plan and creating a marketing calendar – we'll do all three and a whole lot more.
The Systems and approach to make your marketing work and consistently bring in the prospects and clients you are looking for (without this, your business is basically dead in the water).
How to whittle down to the essential strategies and systems YOU need (so you don't have to learn everything and won't feel so completely overwhelmed by all the options).
Authentic marketing that feels real to you and to your clients, so you can connect at a deep level and they'll understand exactly what you can really help them do. (This one thing can shift all your marketing efforts and take you from struggling to effective in one fast swoop.)
How to be effective, and not overbearing, pushy or 'used car sales-y' and still get the job done (this ties into that 'authentic' piece and attracts clients like a super-charged magnet).
The essential processes for KEEPING your existing clients thrilled and happy so they stick with you for years to come (if you're not doing this, you are probably missing out on more than doubling your income year after year).
The KEY to being efficient and effective in your marketing (so you can quit the overwhelm merry-go-round and finally feel free from the panic and fear of the unknown)
How to build custom marketing systems for your business so it can begin to run without you, giving you the freedom to spend time with family and friends, and have more fun doing what you want (all while knowing your business is still churning, bringing in clients and money, even when you're not there).
Learn to create irresistible offers and messaging, get the insider tips to really understanding your target market, figure out the specific media that makes sense for your business… And a whole bunch more…
Program Details
First here are just a few of the 'tangibles' you'll walk away with when you show up and do the work in this program:
A marketing plan that kicks butt. A plan you can start implementing IMMEDIATELY AND grow into. You'll know the next steps and you'll see what's coming down the pike to be implemented later.
A marketing calendar that is flexible and works for you. You'll learn my system for putting everything together so you know what needs to be done and by when to make your marketing stellar.
Tools for testing and tracking. You'll have some done-for-you tools, and you'll develop some of your own so you know what works, what doesn't, what to tweak and what to leave by the side of the road to lighten your load.
Systems. Systems. Systems.

If you're like me and you rebel against systems

, you've probably come to understand

they are essential to your success AND they actually provide MORE freedom

. You'll get some done-for-you systems and you'll learn how to build some of your own, so you can continue to do it whenever you want or need to.
Now for Logistics…
We're going to dig into all of this in virtual style, using teleseminars and support documents that give you the exact step-by-step instrux to follow what you're learning.
You'll also get some 'done for you' materials, that you can tweak just a bit, and put into practice immediately, saving you the time and energy of coming up with it on your own.
We'll meet 2 times a week, for 6 weeks. The first session each week will be the training session, where you'll get all the concepts and information you need. Those sessions will happen on Mondays (yup, everything is recorded, in case you can't make a session live).
Then on Thursdays, after you've had time to start to implement, we'll meet again live for hot seats, laser coaching and good, ole' fashioned Q & A. (Yes, those sessions will be recorded too.)
Each week you'll get the documents you need, the worksheets and done-for-you materials to put everything you're learning into practice immediately.
Who's It For
If you are a solo-preneur or an entrepreneur who is just starting out this program is perfect for you. It will lay a foundation for your marketing that will help you kick things into high-gear and grow your business FAST.
If you've been a business for a while, but know your marketing is not what it needs (and you want it) to be, then you'll find what you need to put the pieces together, start bringing in clients and creating revenue quickly.
Many businesses I know have pretty much everything they need in place… They've got the product or the service, they've got a website, they've got the distribution and shipping processes sorted out – the big thing holding them back is their marketing. If that sounds like you, then this will be a good fit.
Who It's NOT For
If you are looking for a 'magic bullet' answer and you want, to quote one of my survey respondents, "effective ways to market that don't take time, money or effort," then this is NOT for you.
I'll walk you, step-by-step through building your marketing plan, creating a marketing calendar, how to build your marketing systems, and make sure you have all the basics lined up, but if you don't plan to put in any time or effort, then this system won't work for you.
In fact, no system will work for you. Marketing takes effort, it requires time, and sometimes it requires money (that all depends on the avenues you choose, which we'll cover in the program).
Bottom line? This program will require some of each – some time, some effort and a reasonable amount of money.
You CAN Do It
In case you are wondering if you'll be able to do this, I just want to clarify a few things.
You will be getting the exact step-by-step processes that super successful business owners use to build the marketing that got them to where they are. And, you don't even have to incorporate it all right away, doing even a few of the steps will shift things dramatically for you, and then you'll have the other pieces waiting and ready to go when you're ready.
It really is super straight-forward and easy to follow, with lots of done-for-you pieces and worksheets that will guide you right through. If you can carve out a little time to focus on the work, you can definitely do it.
The Nitty Gritty
Now let's talk about the investment, since I'm sure, if you're still with me, that's what you really want to know about. The people and programs where I learned this stuff, cost me 10's of thousands of dollars. In fact, one of those courses is available right now for $10K, and there's another one that's $2995. You're going to get the gold from each of those that I put my sweat equity into to learn, try out and whittle down to the essentials.
So, you might think this program should be $2995 or at least $1995 like a lot of other online programs. I'm not going there this time around. This is my first time out of the gate with this, so I want to make sure you get everything you need and that everything works exactly as it's supposed to. (When I've been through first runs of programs, I've found I've often gotten MORE than the people who followed, because generally people put too much in and have to cut back – it'll probably be the same for me).
Instead of making it $997, like everyone has told me should be the ABSOLUTE minimum, I'm going to make this a one-time investment of just $497. My hope is that by putting it at that point, it will be accessible to more people than those higher-priced programs are. I really want to make a difference for you and your business, and I know, if I do, you'll be back to work with me again and you'll send more people my way – it's a win-win.
The Guarantee
I believe in having a full guarantee for the things I create, so, if for any reason, anytime within a year of taking the program, you feel that it was not what you expected it to be, you can take advantage of a full 100% refund.
There are a few caveats on it though, and I want to make sure you understand them. In order to get the refund, you will have to send me your homework for all 6 weeks of the program. If you actually follow all of the steps and DO THE WORK, and the program doesn't work for you, I'll give you 100% of your money back.
If you're still not sure if this is the right fit for you, click here to reach out to me and I'll answer any questions you have before you decide.
Here's What I Want You To Do Now
The program starts on December 3rd, 2012. I will probably offer it again down the road, but I will raise the price (several people have told me I'm crazy to set it so low to begin with).
So, if you think this is a fit for you, then click here now, and register.
To give you a little extra incentive, I'm going to add a few quickie bonuses – including a few that will fill up FAST, so you'll want to move quick.
Bonus #1
Private Time
The first 5 people who sign up for the program will get some 1:1 time with me.
A single hour session with me, depending on the work involved, runs between $400-500. I'm offering only the first 5 people 1 x 60 minute sessions, to be used anytime up to 1 month after the end of our program together – that's at least a $400 value. (Just so you know, I've had multiple 10-15 minute conversation that have led to $10's of thousands in revenue, and one special 5 minute convo that lead to almost $250K. This is a steal.)  So, if you want some 1:1 time added on, then make sure you sign up quick.
A $400 Value
Bonus #2
Hot Seats
If you are in the first 4 people to register, you will automatically have a chance to be one of our 'hot seats' during the laser-coaching and Q&A calls. This gives you a chance to have me work directly with you on your business for 15-20 minutes of our call. It benefits the group because people learn so much listening to real-time applications, and you can be the person who gets that 1:1 support. The people who were lucky enough to snag a hot seat in the last round told me they had their world ROCKED and their perspective and opportunities shifted dramatically. This is more 1:1 time with me, along with the focused attention of the group – don't miss this chance.
A $100 Value
Bonus #3
Twitter Sales In 12 Minutes A Day
This highly acclaimed Twitter program has helped people land retainer clients worth over $10K/month, get press that brought in multiple clients, connect directly to coaching clients and much more. It's listed for $297 and you'll get it FREE, if you sign up anytime until December 3rd when the class begins.
A $297 Value
Bonus #4
21 Easy, Effective and Cheap (or FREE!) Marketing Strategies to Propel Your Product or Service Into Success (Ebook & Audio Training)
This is my newest offering – in fact, it's so new it's not even available to the public… YET. You'll get first dibs on this awesome book of strategies that people who've been working with me have been begging me to put together for years. It will become your quick reference guide EVERY TIME you are ready to kick your marketing up a notch, do a launch or simply increase the moolah flowing into your bank account.
These are the tested strategies I've used to make this program and many others successful, it's what I've used to build my highly responsive list and it's what I turn to each and every time I want to make a big splash. Of course, there are many strategies not listed in the book or discussed on the audio, but these are the fastest, easiest, cheapest (a whole bunch of them are completely FREE) and most effective, particularly online (there are strategies for both online and off included).
A $97 Value
Bonus #5
Skype Day
Because I know that sometimes everyone has questions when they are working, I'm going to make myself available via Skype chat for 1 whole day. You can set aside that day (you'll find out when it is as soon as you enroll), or part of that day, to work on your materials, and I'll be available on Skype chat or for quick calls ALL DAY. A whole day with me is at least a $2495 value, if you take advantage of it. This will be available to anyone who registers.
Priceless :- )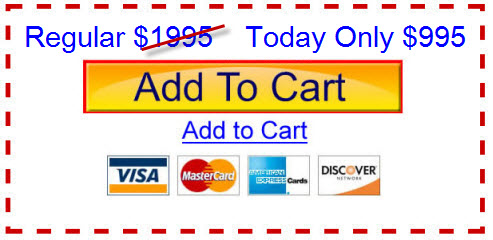 What Others Have Said About Working With Me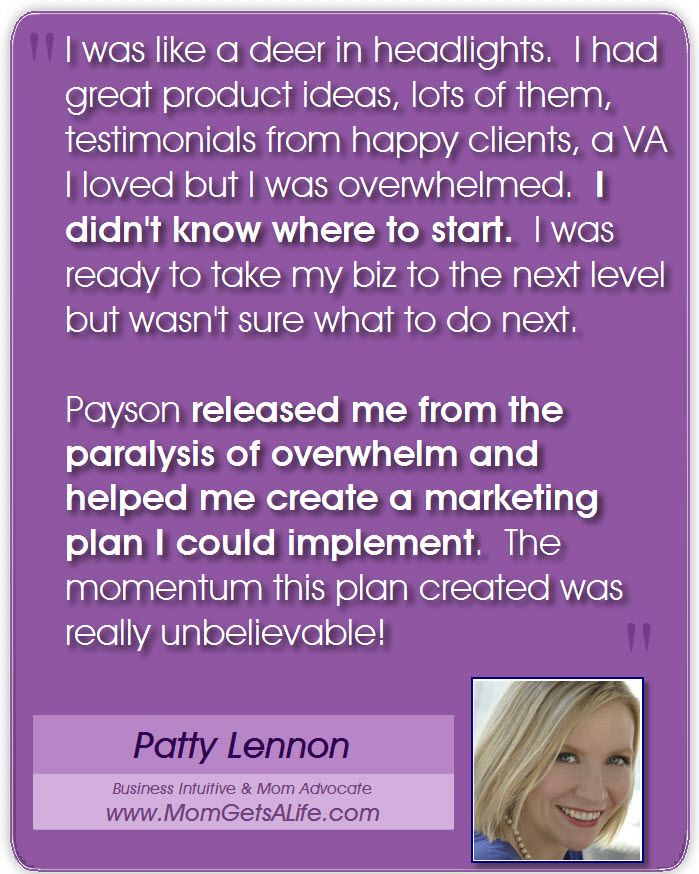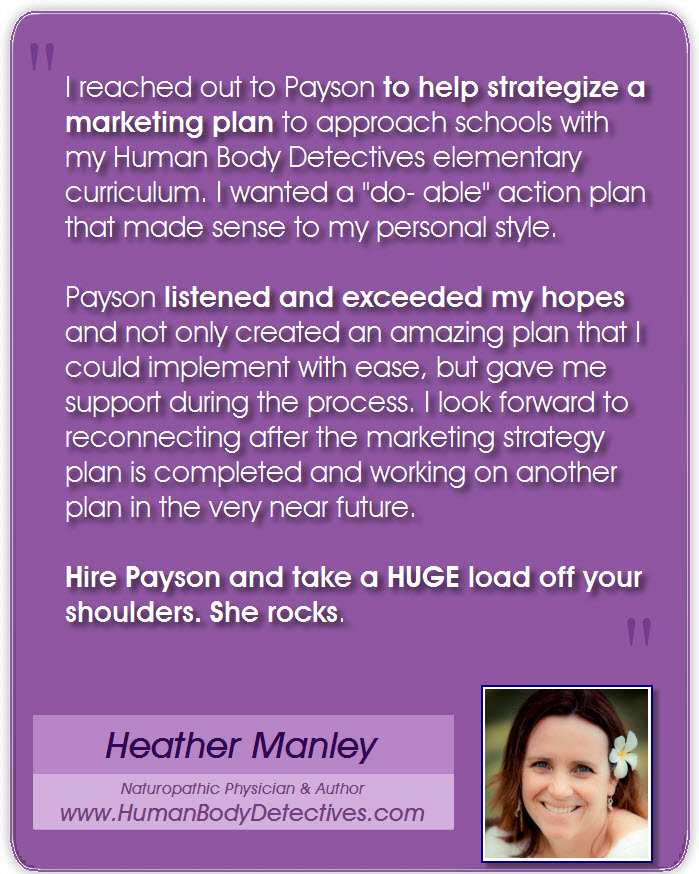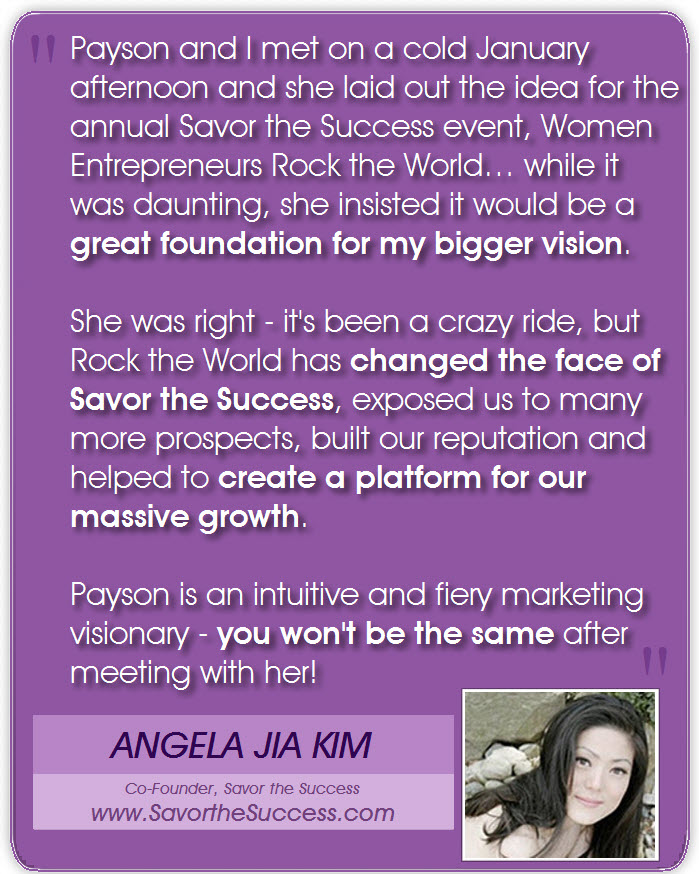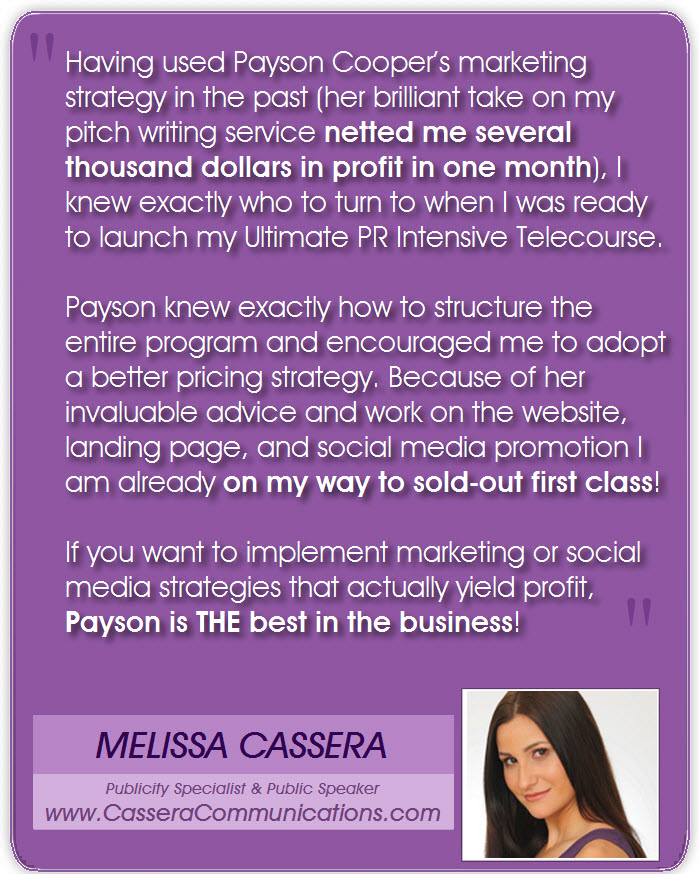 See More Comments from Past Clients
If you're ready to dive in and create marketing that attracts clients, gets your business growing and is easy and fun, then register now.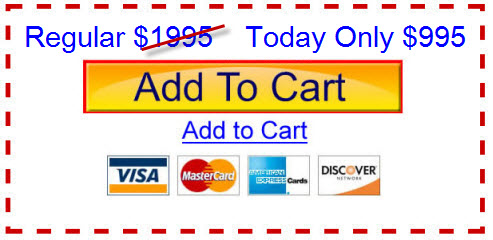 Look forward to seeing you inside!
Hugs,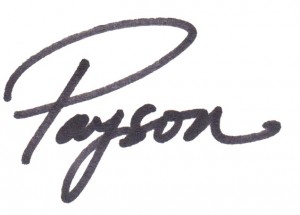 P.S. One final piece I almost forgot… Instead of the single investment of $995, you can opt for 3 installments of just $377, one will happen as soon as you enroll, and the others will automatically happen about 30 days, then 60 days later.
P.P.S. Don't forget about the guarantee and those limited bonuses… you can basically get the program for free if you are one of the first 3 people who gets the 2 hour private sessions… so what are you waiting for? Sign up now.