So, what goes into your marketing plan?
In past blog posts, I've covered a few details of 'what is a marketing plan and why is it important' and what should be in a marketing plan… today we'll dig in just a little bit more.
Today I want to talk about the marketing funnel that goes into your marketing plan.
Your marketing funnel is generally a visual representation of the steps and stages a potential client (and then client) can travel through your business. It's often pictured as a funnel (as in this picture below), or turned around the other way, making a pyramid shape.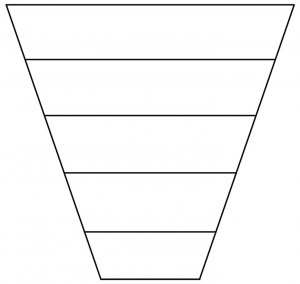 At the top of the funnel is where you would have any free offers you are putting out to the world. You want to remember, as you put out those offers, they need to be very enticing and they need to connect deeply with one of the bigger wants and needs (if you can do both, all the better) of your target market. You also want to make sure that you are truly serving people – giving them some of your very best stuff. This is your chance to make a stellar impression, so don't cheap out on this.
The next step in the funnel is something that is also easily accessible, so it may be a well-priced offer that gives a lot of great support and information as well. It lets people try you out in another way and begin to wade into the waters, without having to commit to something huge, or dive right in – which most people are just not ready or willing to do.
On occasion, someone will be ready, though, so you want to make sure that this funnel isn't a requirement – it's not set up like pre-requisite courses in college. You don't HAVE to go through the 101 level to decide you want to dive into the deep end and go big. If you have someone who loves your work and they're ready for the whole kit-and-caboodle, then let them go for it, and give them an awesome experience.
In the next level, you step things up a notch – both from the standpoint of the level of investment and the level of time and service involved. People that reach this stage have often invested before, they've tried you out and they're ready to go into the waste deep water now. They're making a commitment.
Then, as you continue to flow downward, you add premium offerings. As the funnel suggests, a smaller number of people will trickle down to that level, but it's ok. The people that do are your best customers. These are the ones who are generally raving fans (there can be some at every level, but these folks are deeply invested in your products and services).
The idea behind this piece of your marketing plan is that once you get someone who is interested in you and what you offer, you want to make sure you continue to serve them in multiple ways. You want to find out as much as you can about what they want and what they need solved, and you want to create and offer products and services that give them what they want.
When you do, your business has depth, and you can build long-term relationships with your clients, giving them more of what they want, and in turn, building a business that grows and thrives.
If you want more information on marketing your business, you'll want to tune in for my upcoming Marketing in the Morning™ webinar. You can find out more about what we'll cover and register here.