.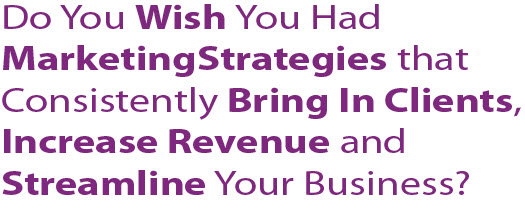 Then, you've come to the right place.
Imagine if you started each day knowing that new clients were streaming into your business almost effortlessly. You got to pick and choose the ones you enjoyed the most, and you're so jazzed about getting to work with them you can barely believe how fortunate you are. You check email to find out that another one of your packages sold while you were asleep, and you have another inquiry from someone who wants to work with you.
You breathe a delighted sigh as you think about how far you've come, knowing all the money you need will be coming in this month, and next, all without you having to work crazy hours and feeling completely overwhelmed.
That Sounds Amazing, But…
Right now, that's not exactly what you are experiencing… maybe you're feeling completely overwhelmed by all the choices for marketing. Maybe you're feeling like everything you've tried, even if you learned it from someone who seems to be having success, doesn't really work. You might even be feeling like there must be some 'secret sauce' to make marketing work as well as it seems to work for other people.
You've Tried Pretty Much Everything…
As you're reading you're probably thinking about everything you've tried… reading HARO every day and submitting answers to the never-ending-onslaught of PR requests, posting to Twitter religiously, interacting with everyone you can think of on Facebook, sending emails to your list trying to keep them actively engaged… and so much more. But, it's just not working like you've heard it's supposed to…
I know how you feel…
Listen, I've been there. I'm serious, I know how hopeless and frustrating it feels… when I launched my first website I was sure if I built it 'they' would come. I got nothing. Zilch. Squat. Zero.
So, I regrouped… and while some little part of me was freaking out and terrified that I'd fail miserably, I started to dig. I learned from marketing gurus, I read books, I studied marketing and sales masters, and I experimented. And slowly at first, I started to see things change, and even more, I started to be able to help other people change.
That's Why I Created The Rapid Fire Session™
This 1 on 1, private program is designed to help you go from overwhelmed and freaked out because you don't know where your next client is going to come from, tofeeling in charge, confident and with a step-by-step plan of action to keep you there.
When we work together in this way, you get my marketing brain (a 'human library catalog' as one of my clients put it recently) zeroed in on your business.  Here are a few things you can expect:
Uncover exactly what's working and, perhaps even more importantly, what isn't working, in your business. (This one thing can shift everything completely, swiftly bringing in money and clients.)
After our time together, you'll stride off with a step-by-step action planI'll write up for you. (And, we'll have discussed it, in detail, so you'll know EXACTLY what to do and when to do it.)
That's not all… after you get started, you'll probably have some questions, so, we'll get back together and make sure everything is running as smooth as a well-oiled machine.
You'll even have email access to me between those sessions, so I'll be right by your side, guiding you over any hurdles that may come up.
Here's What To Expect
The first step you take in this program is to fill out a questionnaire I designed specifically for my high-end clients. It clues me in immediately to where you are and what you need. It's such a powerful tool, I've had clients tell me simply going through it was worth double, even triple what they were paying me.
Once you submit your questionnaire, we set up your 60 minute deep-dive. I'll help you fix things that are causing the marketing you are doing to fall flat, and we'll dig into your preferences (hey, it's a whole lot more fun doing something you enjoy, isn't it?). I'll take those into account as I build the step-by-step strategy for you right there on the phone, talking through every step.
When we're through, I'll write up a 1 page customized action plan for you… ok, maybe it will be 2 pages, but you're ok with that, right? You get started on putting that strategy in play in your business, and about 2 weeks later we'll schedule a 30 minute follow-up so you can get any questions answered and we can tweak that strategy to make sure it's spinning pure gold.
Oh, I almost forgot – you'll also have full email access to me through the 2 weeks after the initial session. I'll be right there, holding your hand, making sure you can put everything into practice.
I Know You Can Do It.
If you're wondering if you can make this work for you, I just want to say that I know you can. We keep things super simple and straight forward, in step-by-step fashion. You get a personalized action plan, AND, you get me, right there by your side, to make sure you can get past any unexpected blocks that may come up.
Is This For You?
This is for service-based entrepreneurs and solo-preneurs who are ready to rock and roll. It takes courage and action to put marketing strategies out there that will bring you business, and you need to be serious about following through.
If you're thinking we'll get on the phone and just shoot-the-shit, then you're wrong. Part of the reason for that second call is accountability. I want you to succeed and get the results you say you want, so I'm going to hold you to it.
(If you have a product based business, I may be able to help you, but just in case shoot me a quick message with a little information about your business and we'll make sure it's a fit before you move forward.)
After sharing this package with a few of my clients, they told me I should charge $997 for it, telling me the value I give even in a short period of time is tremendous… 
I wanted to make sure it was a 'no-brainer' so I decided it shouldn't be more than$597… but then I thought, "What if I made it SO good, they really couldn't resist?"
So, until February 28th, 2013 the
Rapid Fire Session™ is just $497.
What are you waiting for? Click here to sign up NOW:
P.S. Just one example of how fast I can work… just 10 minutes into a phone call I showed a client where she was missing out on a $250,000 PER YEAR opportunity in her business. She immediately started making changes and is on track to bring that money in now, year after year.
P.P.S. One more thing – this special offer is also going to be limited to just 4 people. I can't really fit more than that many of these sessions in a month with all of my other work, so if you want it, hop on it NOW.
P.P.P.S. Here are a few things clients have said after working with me. If you want to see more, click here.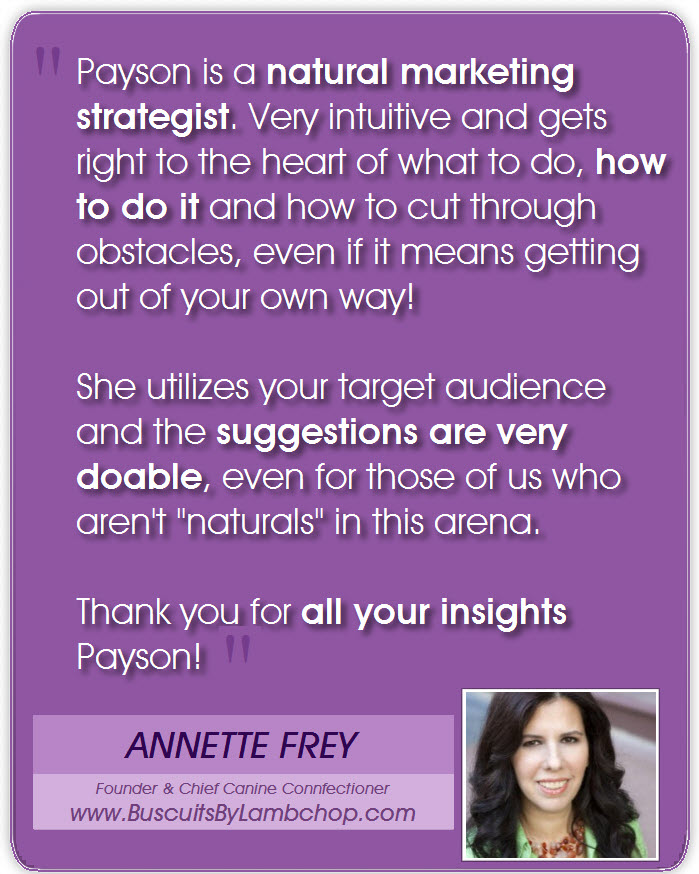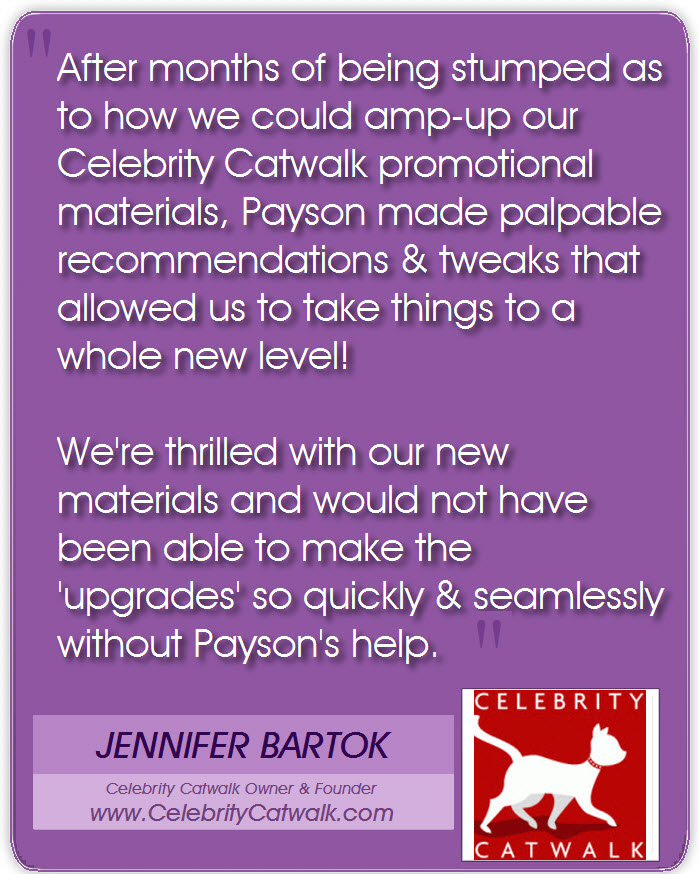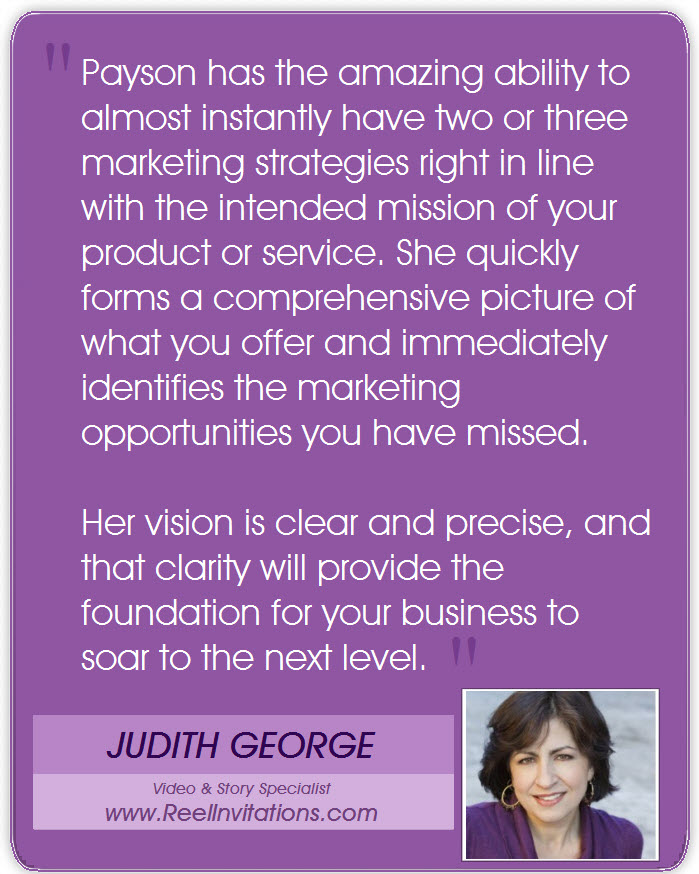 Ready to Dive in?
Remember, the Rapid Fire Session™ is just $497 until the end of the month or until 4 people sign up. Just click this button and we'll get started.