What Can You Learn From A Teenage Crush?
By
In this post, I'm going to propose that you can learn how committed you are to your business and success… we'll see what you think. (Perhaps, in the story below, your question will actually be, "How soon would I be committed?"  )
This past weekend I got to play with several amazing women who are close friends as well as entrepreneurs…
We were sharing stories about different things and ended up talking about the first rock or pop concert we'd ever been to… so we went around the room and everyone shared.
After I shared my story, someone pointed out that there was a level of commitment in a part of my story that was different than the level of commitment most of us show in relation to our lives, and, in particular, to our businesses.
So, here's the story…
You can tell me what you think (just so you know, this feels a little bit like baring my soul and some deep dark secrets, so please be kind)…
When I was 14 or 15 I went to my very first rock concert… it was the band A-Ha. Yes. You read that right. I was in full-on, teenage *CRUSH* with the lead singer of the band Morten Harket. (This is a picture of my wall at that time…)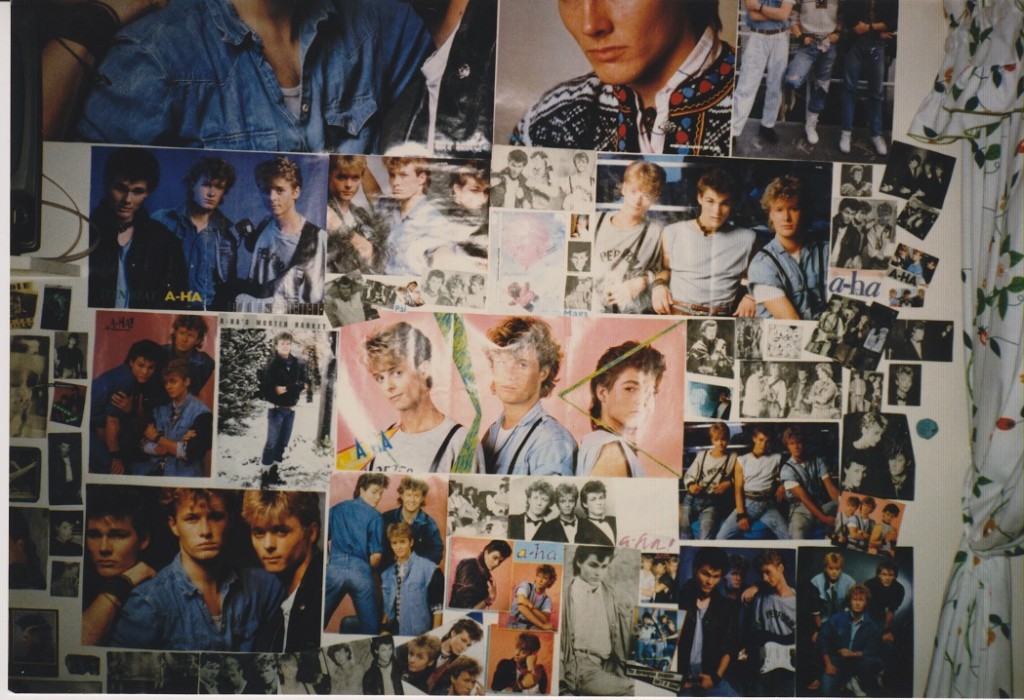 Yup. Teenage girl for sure. Teen, Teen Beat and Tiger Beat got a lot of my babysitting money. Ahhh… to be young and infatuated again…
'Course, it helped that my best friend at the time had a thing for the keyboard player, 'Mags', aka Magne Furuholmen (he's the one in the middle in the center picture, Morten is on the right).
So, why am I telling you this and what the heck does it have to do with your business…?
Well, the summer I was 16 was supposed to be my first 'working' summer – get a full time job as soon as school let out and start learning about what a workaday life was like. My brother had done it, and now it was my turn…
Only thing was, I had a different plan.
To understand my plan, you'll need a tiny bit of back-story…
During a few of my formative summers I'd gone on trips with an organization called Interlocken. They provided different kinds of adventure trips to all types of locations – of which, I took two. The first trip was living on a small two masted schooner named 'The Flying Fish' from Boston, MA to St. John's Canada. Here's a picture of the ONLY day we got the sails up. (It was 3+ weeks of motoring the coastline with not a stitch of wind – gorgeous scenery, tight bunking quarters with 2 adults, a 2 year old child, 3 girls and 2 boys, but we did ok – that was the one time in my life I didn't shower for 9 days… but that is a story for another day…)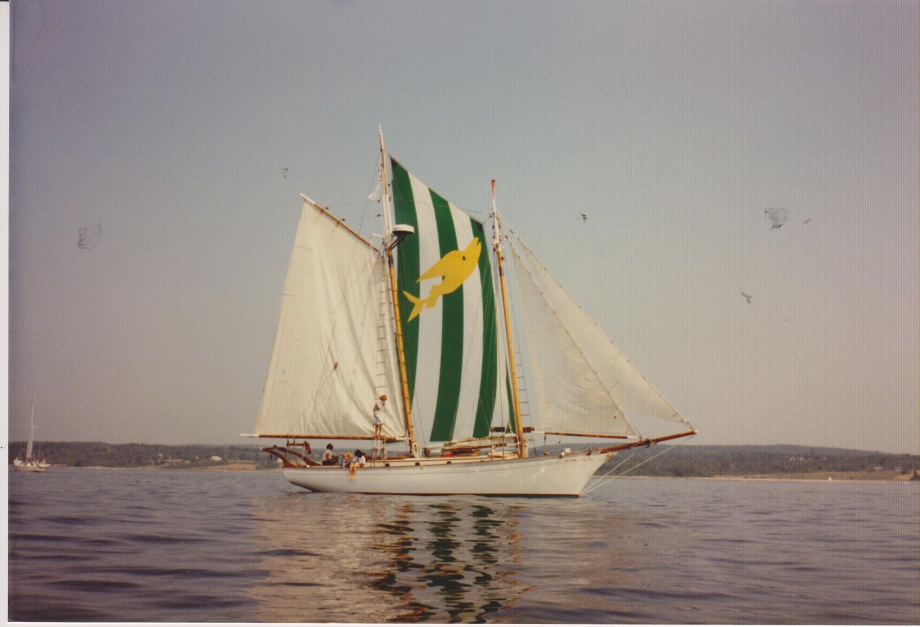 The Flying Fish
The second was a bike trip through most of the state of Maine – also lovely and horrible for reasons I will not go into, but suffice to say, it was definitely an ADVENTURE experience.
So… now we are getting to the point…
That summer, when I was 16, there was an Interlocken bike trip to Denmark and Norway. Now, if you are an A-Ha fan, you will immediately understand why this was important… if not, which I suspect most of you are not, then it will help if I tell you that they are from Norway – I think they're one of the only Norwegian pop bands to ever chart in US…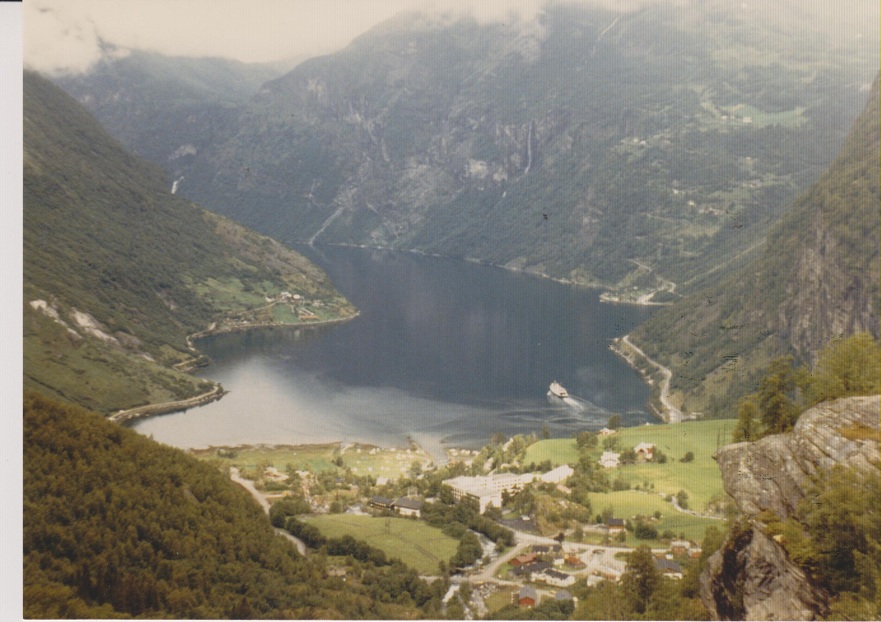 A picture of just ONE of the Fjords we rode up above, down into and up out of again. Phew.
Well, I decided I was going to Norway, no matter what. I have no idea what I thought that would do… maybe somehow I'd manage to meet Mr. Harket, maybe he'd fall in front of my bike or I'd run into him in a bakery? Who knows… but I DECIDED to go.
And, I did whatever it took.
I sold my 3-story, baby-blue Victorian doll house with white trim and a widow's walk. I babysat for bratty boys that loved He-Man. And, I worked on my parents to get permission.
Eventually I got a deal… if I could pay the airfare, they'd pay for the trip – and I had to work full-time, starting as soon as I got back, until the day school started.
If I remember correctly, the airfare was $835… I scraped it together in any way I could and in June of that summer, I flew to Copenhagen, Denmark and started a 1,000 mile trek through that gorgeous, windy country, across ferries and over the fjords of Norway, ultimately ending in Oslo. We carried EVERYTHING we had, for the entire 6 weeks (other than food) on our bikes.

Here's one of our bikes, and a few of my fellow travelers…there were 10 of us.
It was an INCREDIBLE experience, and there are memories from that trip that are some of my fondest. If I ever need to know if I have the fortitude and will to do certain things, all I need to do is think about a few experiences on that trip and I dive right in… this trip made the Maine bike trip look like an outing to a mini-golf course… someday, perhaps, I'll share a few of the experiences and lessons learned…
Bottom Line? Your Life Changes When You Make A Decision
Everything I look back on, and all of it's meaning in my life since, happened because I made a DECISION. I was determined to make it happen. I set my intention and did whatever I could think of to make it happen… and the universe opened the way.
So, now, I have to ask you…
Have you made the decision to succeed in your business? Have you made the decision to create six-figures this year? Maybe your decision is to create $8-10K in reliable income per month?
Maybe you haven't made the decision yet? What are you waiting for? Not making a decision is actually making one, but it's making a decision to let life happen to you, instead of choosing what you want to do and giving the universe a chance to yield it to you.
If you have made the decision, ask yourself what you are willing to do to make it happen? Are you willing to be uncomfortable? To stretch to create what you want? What can you do to support yourself in following through on your decision?
If you have made the decision to create a new level of success in your business, I want you to click here and get on a live teleseminar I am hosting on March 12. It shares with you exactly how to take your service, information or advice based business and get tons more clients, eliminate overwhelm, work less than ever and start making money really fast.
Here's the link again – don't wait, make a decision and follow-through: GET ON THIS CALL
P.S. No, Morten Harket did not fall out of the sky and land on my bike or come hang out with me by the camp fire… but I had an incredible experience. Sometimes we do things for one reason… and then, we get exactly what we need…
P.P.S. I also learned to play The Beatles 'Norwegian Wood' on the piano due to this affliction… ahem, I mean interest.
P.P.P.S The call I mention above is a LIVE Call… no recording. So make a decision to get on it, put it in your calendar and be there, or be square.