Quickie today… can't get this song out of my head, so figured I'd give you the happiness of it too. Yes, I know. You are most welcome.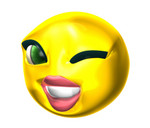 Love this version with Dean Martin and Jerry Lewis! Wonderful!!
And, check out the wonderful 'Subway Sinatra' doing his version outside of the 2nd Ave Subway construction site… the fabulous Gary Russo. A real NY sweetheart!
This is the BEST of the corny-corn-dog world. Well… one of the best! LOVE THIS!